---
Looking to generate more sales for your Etsy business? With over 7.5 million sellers setting up shop, standing out from the competition is getting more and more difficult. Entrepreneurs using the Etsy marketplace are increasingly in need of resources and aids to help them reach the over 90 million shoppers who use it to find unique crafts and other items.
That's where tools such as eRank and Marmalead come in. These solutions were designed specifically to help Etsy creators reach more people with their offerings. But which one of the two should you choose to get the results you are after?
In this article, we will carry out a detailed comparison of eRank and Marmalead to help you understand what is offered by each as it relates to the goals of your Etsy business. Ready to begin? Let's go…
eRank and Marmalead Overview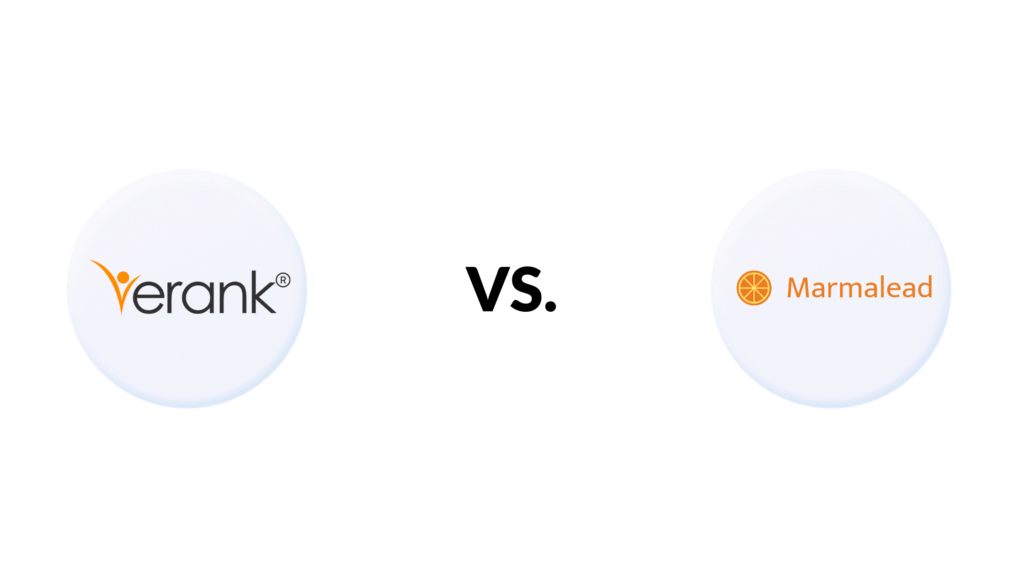 eRank and Marmalead are two popular tools used by Etsy sellers to assist with optimizing their shop listings and increasing sales on the platform. Both tools offer a range of similar features, covering keyword research, competition analysis, and sales tracking, among other benefits. However, there are some notable differences between the two that can lead to users picking one over the other.
What is eRank?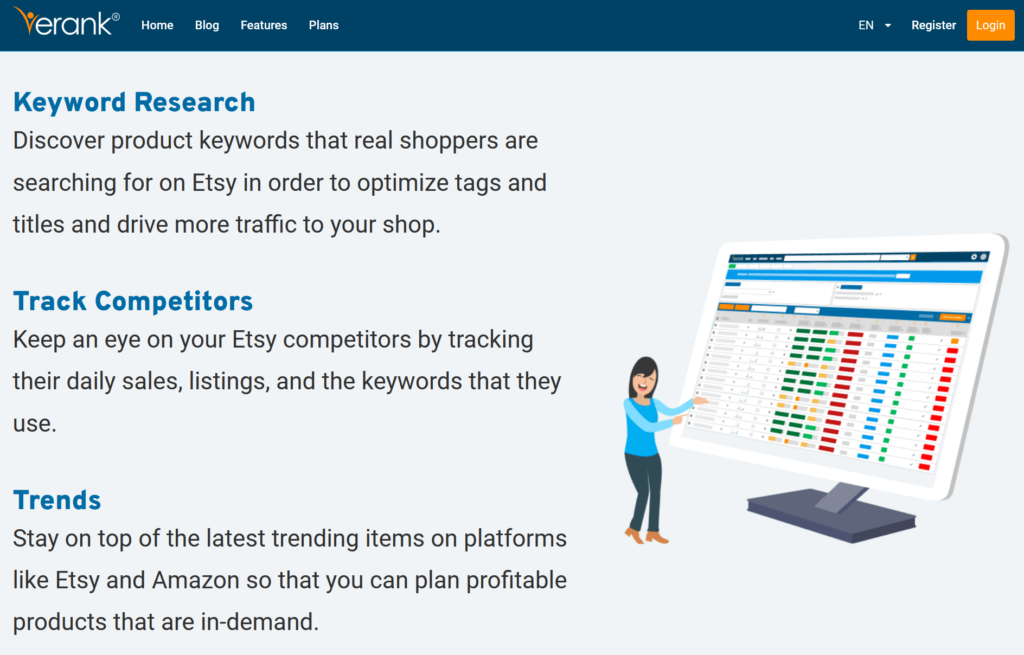 eRank is a full-service SEO tool created for users of the Etsy platform. It was designed to help sellers optimize their listings for search and improve their ranking in search results, in effect increasing sales and exposure on Etsy. eRank provides keyword suggestions, title and tag recommendations for listings, sales and traffic tracking, and even insights on the performance of listings and competitors.
Among its arsenal of tools and features is a solution called "eRank Boost," which allows sellers to go after increased visibility in search results. In addition, eRank users can get access to a listing critique tool, and product research tool. We will talk more about eRank's features later on.
What is Marmalead?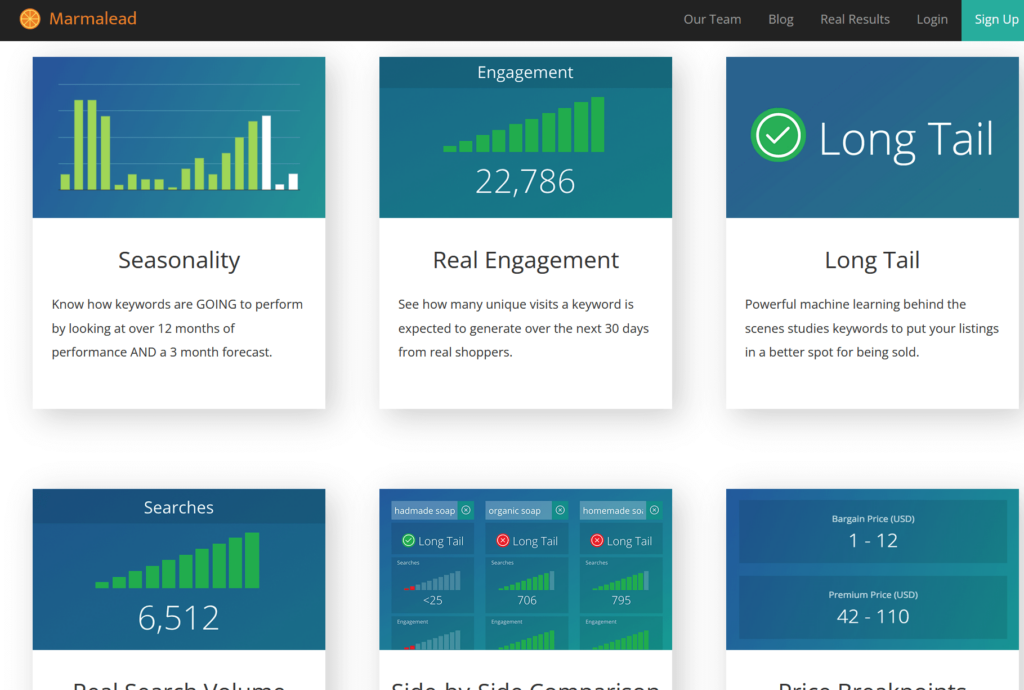 Like eRank, Marmalead was created for Etsy merchants looking to get more exposure. A notable difference, however, is that Marmalead will try to put an actual score on the performance of your Etsy business and then help you create or make changes to your SEO tactics.
As a result, Marmalead provides a range of features to help sellers optimize their listings for better visibility in search results. The platform offers a bunch of features along this vein, including a keyword suggestion tool, a keyword trend tool, and a keyword competition tool.
On top of keyword research, Marmalead also offers trend analysis, and competitor analysis to help sellers choose the best keywords and tags to use in their listings. You also have access to a sales tracker and a listing optimization tool, as well as tips and suggestions on how to improve titles, tags, and descriptions for improved search rankings. Overall, Marmalead focuses on helping sellers improve the performance of their shops, in line with increasing their revenues.
So, which is better, eRank or Marmalead? Up to this point, the two Etsy marketing tools seem pretty evenly matched. It's now time to look at the different features of both for an even better understanding of what they can do.
Top features of eRank
Keyword analysis: eRank makes it possible for users to research and analyze relevant keywords for their Etsy shop and listings. For one, you get access to Trend Buzz, which is a keyword exploration tool that can analyze Etsy, Amazon, Pinterest, and more, to help you find search terms that real shoppers are using online. It also scans through the top 100 listings for a selected keyword to give feedback on titles, tags, listings, etc. that they are using, as well as provide feedback on search terms that were trending in the last seven days.
Competitor analysis: The competitor analysis feature allows you to get a solid idea of how your shop and listings stack up against other sellers in your field on Etsy. You can compare sales numbers, reviews, tags and more for corresponding competitors, which will help you optimize your own Etsy marketing strategy.
Shop and listing optimization: Another worthwhile feature is getting recommendations on how to optimize your shop and listings for better search visibility and performance. It includes getting suggestions for titles, tags, and descriptions that will help users rank higher in search results. You can also carry out listing audits to see how well each of your listings are in compliance with Etsy and Google search, or even check if there are attributes selected for your listings.
Social media integration: eRank integrates with several social media platforms, including Pinterest and Instagram. This capability allows users to see how their listings are performing on these social networks, as well as how they compare with competitors who are also using social media.
Customer reviews and ratings: eRank can also help you with viewing customer reviews and ratings for your listings. That way, you can get to see what buyers are saying about your offerings, and identify areas for improvement accordingly.
Historical data tracking: You can check the performance of your products through historical data generated by eRank. You can, for example, generate sales reports and traffic statistics using eRank. You can also use the monthly trends feature to identify the most searched categories and keywords across a 15-month period. With access to all this data, you will be able to see how your performance has changed over time and identify useful trends.
Advanced filtering and sorting options: eRank allows users to filter and sort their research data by various criteria, such as keyword difficulty, search volume, and competitor performance, to help them better understand their market and make informed decisions.
Comprehensive dashboard: eRank users can easily get a quick overview of their Etsy shop by visiting the dashboard. You can easily see statistics related to keyword trends, listings, feedback, sales figures, and more.
Top Marmalead features
Keyword research: Marmalead allows users to research and analyze relevant keywords for their products to optimize their listings and increase visibility in search results. You can check keywords across various categories and competitors, and even check the level of engagement generated by each keyword, and more.
Storm tool: This is just an advanced keyword research tool that uses machine learning to help you brainstorm appropriate keywords for individual listings in your Etsy shop. This is particularly helpful to find unique but related keywords that probably don't show up using the regular method.
Competition analysis: You can use this feature to see how your products are matching up to similar items on Etsy. The analysis will help you to compare pricing, keywords, and sales. This can help users identify areas where they can differentiate their products and improve their chances of making a sale.
Search ranking: It is helpful to know just how well your products are ranking in search results. You can use Marmalead in this regard to check on your keywords that are driving traffic to listings. This can help sellers identify areas where they can improve their search optimization.
Product insights: Marmalead also provides detailed analytics on your products, including sales trends, customer demographics, and product performance. As such, you will be able to identify trends and insights to inform future product development and marketing strategies.
Price optimization: You are able to set custom price ranges for your products when using this feature. You will get recommendations on optimal pricing based on data from similar products on Etsy. This can help users maximize their profits and increase their chances of making a sale.
Customer feedback: Another useful feature from Marmalead is being able to gain insights on customer feedback and reviews. You can, for example, check out the most common positive and negative comments. Being able to drill down into customer feedback can help with identifying areas for improvement and making changes to products or listings that will better meet customer needs.
Pricing
As you can see, there is a great deal of similarity between the features of eRank and those of Marmalead. Some will argue that eRank's features are a bit more robust and comprehensive. However, Marmalead users often boast of its simplicity, and the use of machine learning adds a nice touch. With that said, let's look at the pricing for both tools to see how they match up.
eRank pricing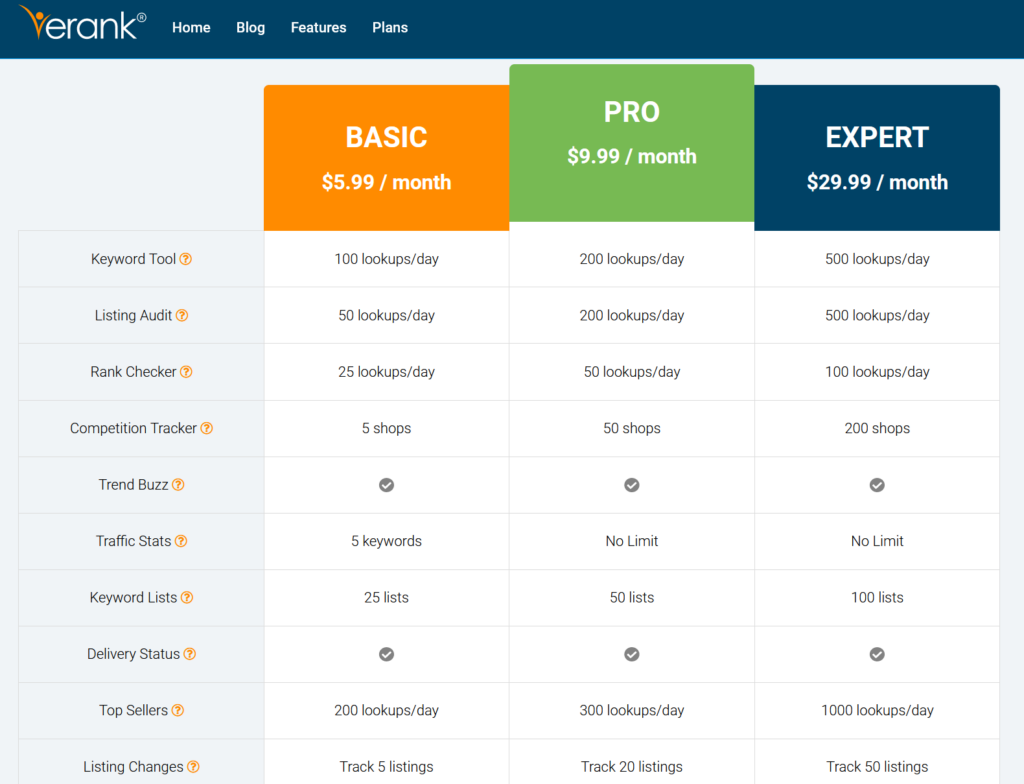 One of the alluring features of eRank is that you can start using it for free. You don't even need a credit card, and you are able to access all the basic features for as long as you want. With that said, some of the most useful features from eRank are only available with a paid plan, and there are three of them:
Basic: This package costs $5.99 per month and comes with benefits such as 100 keyword lookups per day, 50 listing audit lookups per day, 25 keyword lists, and the ability to track five Etsy shop competitors, among other perks.
Pro: The Pro Plan costs $9.99 monthly and offers, among other benefits, 200 lookups daily each for both keywords and listing audits, listing analysis for 4,000 active listings, 50 rank checker lookups, and unlimited traffic stats.
Expert: With the Expert Plan, you pay $29.99 per month for advanced benefits, including 500 lookups daily each for keywords and listing audits, listing analysis for 5,000 active listings, ability to track 200 competitors, and access to 100 keyword lists.
Marmalead pricing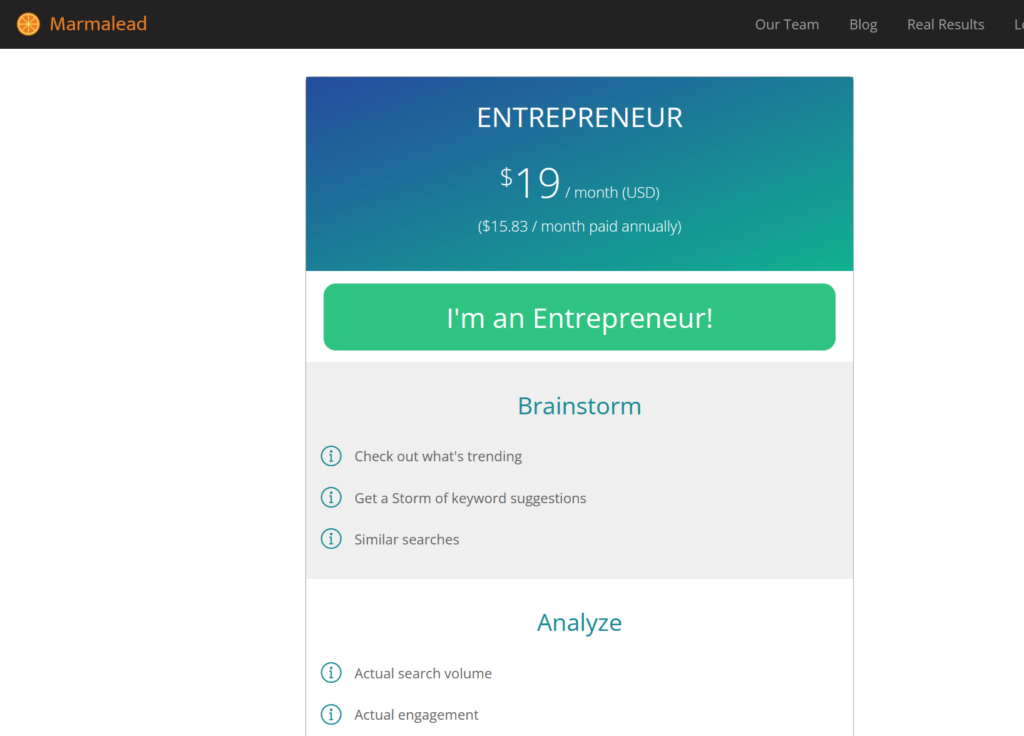 Like eRank, Marmalead does offer a free plan that comes with limited access to its best features. It also offers a paid option that might be considered more simple and straightforward. In this regard, Marmalead has one premium plan called "Entrepreneur."
At $19 per month, the Entrepreneur plan costs more than the first two eRank pricing tiers. But this one fee gives the ability to use all the features available in Marmalead. Moreover, if you sign up for an annual contract, you will end up paying a lower price of $15.83 per month.
Bottom line: comparing eRank and Marmalead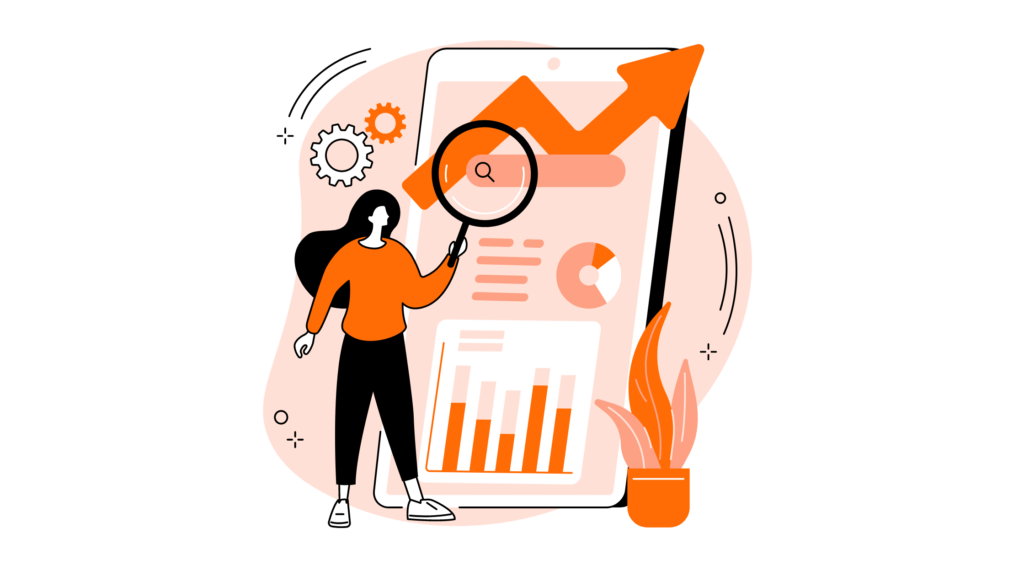 Based on reviews, some sellers agree that eRank's raft of features is a bit more comprehensive. Its focus on SEO and product research is praised by users who have attributed their success on Etsy to the platform's thoroughness.
At the same time, Marmalead has been used successfully by over 110,000 sellers, many of whom laud its keyword research and analytical prowess. In addition, Marmalead has made claims that Etsy shops using its range of tools have outperformed other non-Marmalead sellers in sales – averaging as much as four times their annual revenues.
All that being said, both eRank and Marmalead have proven themselves in the marketplace to be useful tools for Etsy sellers looking to increase the visibility of their listings and get more sales. Ultimately, choosing between the two will depend on your specific needs as a seller and which features are most important to you.