---
Etsy has earned a reputation as the most well known site for selling handmade goods, particularly vintage items. The site has since grown to include a wider range of products, and many sellers find it an easy way to eCommerce.
With $13.5 billion sales in 2021, the site is booming. However, it's important to recognize that the competition is high, with 7.5 million active sellers.
While Etsy may be the most popular, there are plenty of alternatives to choose from.
Whether you are looking to add a new platform, or are switching from Etsy due to the fee increase, there are plenty of Etsy alternatives for you to choose from!
Etsy Alternatives: Your Ultimate Guide to the Best Etsy Alternatives for Sellers
Big Cartel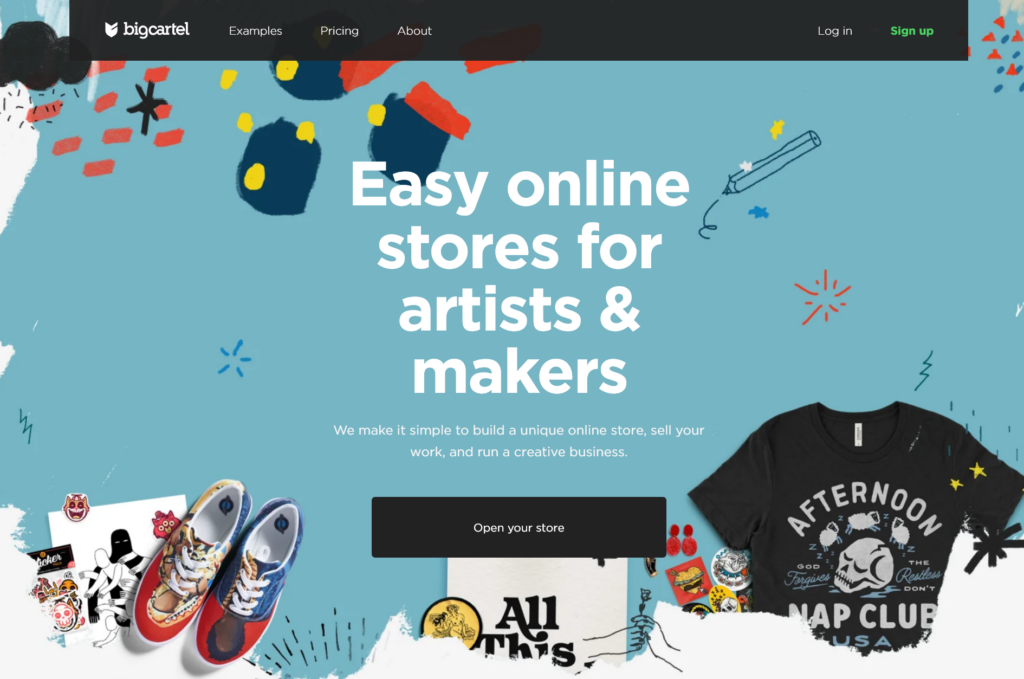 Big Cartel caters to a similar audience as Etsy, though with less of a focus on vintage handmade goods.
Both websites were introduced in 2005, and operate in similar ways. Big Cartel is a good alternative for small businesses, but there are some key differences.
Best For
Artists confident in their ability to build their own custom website and drive traffic to their site. The primary audience is independent designers and musicians.
Pros
If selling just a few items, the store can be completely free. There is more ability to customize your website and to come up with a personalized marketing strategy. Compared to Etsy, it's also easier to build your own brand and stand out from the crowd.
Cons
With Big Cartel, a lot more of the responsibility of building your brand, and marketing falls squarely on you. Someone just starting out may prefer Etsy's simplicity, unless they like a more hands-on approach and don't mind doing their research.
Price
Big Cartel and Etsy both have free plans.
Big Cartel's free version is called Gold, and you can sell up to five items, with one picture per item.
You can get a free theme, run promos, and track shipments, along with other basic features. From there, you can upgrade to Platinum for $10 per month, or Diamond for $20 per month.
Each level allows you more items, more photos, and more features such as analytics, themes, and bulk edits.
Squarespace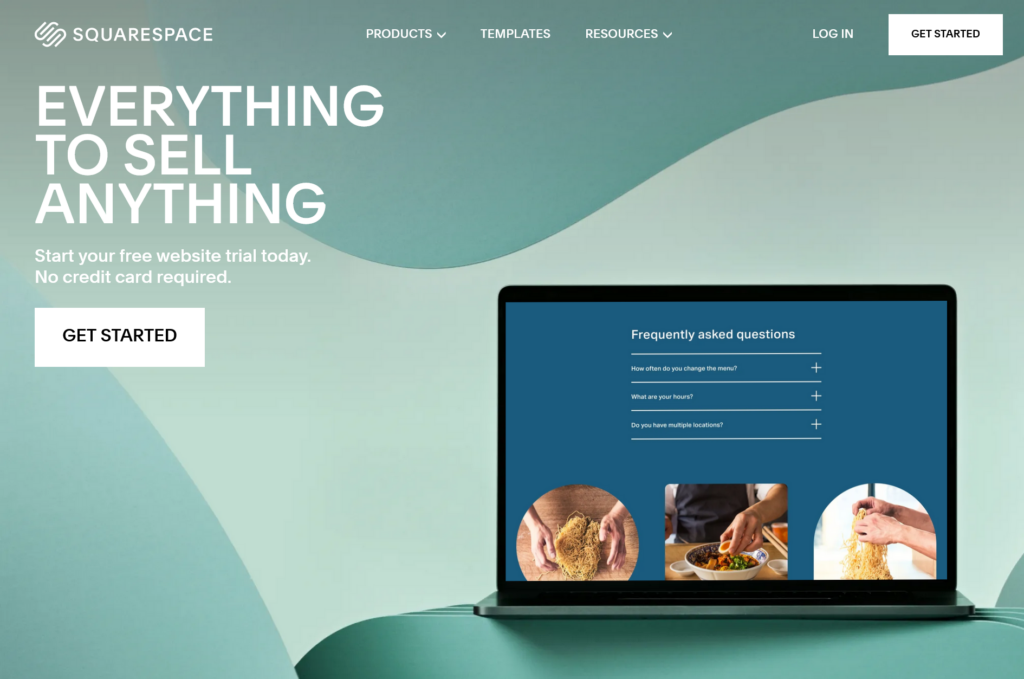 Squarespace is a website-building platform commonly used for eCommerce, due to some of its features and ease of use.
People looking to move their Etsy store to a standalone site will often use Squarespace as they can import their Etsy store, keeping their products and URLs.
Best For
Those looking for a standalone, fully customizable option that is still easy to use. Beginners will find this to be an easier option for building a website, particularly an eCommerce store.
Pros
While Etsy has a particular market, Squarespace can be used for selling all kinds of items and services. It allows you to have unlimited items, making it a good choice for a more extensive selection.
You have absolute freedom and control over what you want your store to be. You can create a beautiful, unique website customized precisely how you like.
Cons
Squarespace does not offer its users as much support in sales and promoting their items.
Because it's not a marketplace, getting others to your website is entirely on you. You will have to invest more time and expense to drive traffic to your site.
Setting up your site will take significantly more time than with Etsy, which allows you to start immediately.
Price
For an eCommerce store, you will want Squarespace's business or commerce plan. Their business plan will cost $23 a month, but there is a 3% transaction fee for whatever you sell.
Those planning on selling more expensive items or larger quantities will likely prefer the basic commerce plan, as for just $4 more a month, that 3% fee goes away.
Ecwid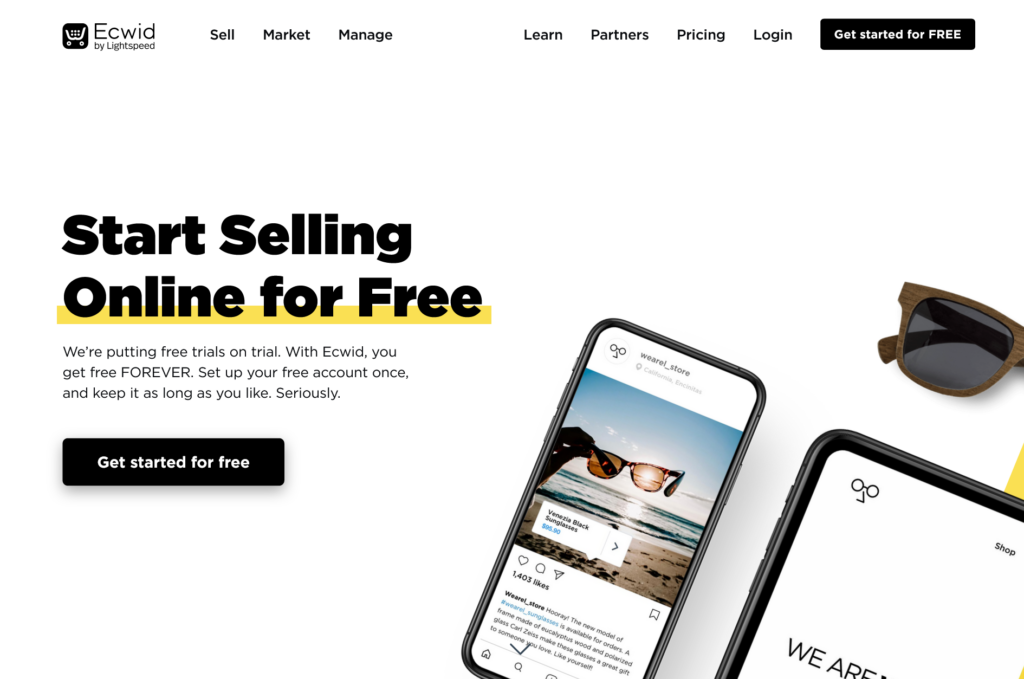 Ecwid, short for eCommerce widget, is a program that provides that and more! Ecwid allows sellers with an existing online store, website, or social media to quickly create a way to sell items across these platforms.
For example, if you had an art portfolio page already set up but would now like the ability to sell those featured artworks from your portfolio, you could add a buy button.
The program offers a method to start selling items in a variety of ways, such as through Instagram.
Best For
Those who aren't ready to commit to building a full website and want to test the waters, or those with already existing websites who want to add a purchasing widget.
Ecwid is also great for those with large social media followings, looking to sell a few select items from their account without the hassle of setting up a shop.
Pros
There's a version that is free for life, and there aren't any transaction fees.
Ecwid also makes it surprisingly simple to add a widget to an existing site.
Further pros are the features in Ecwid, which includes order management, pricing, and centralized inventory.
Cons
You can build a whole site with Ecwid, called an "instant site" but it's pretty basic, and you'll likely find your business will outgrow what the site can do.
If you are already planning on building a site, it may be easier to just build on a platform like Squarespace, which will provide you with all the eCommerce tools you need.
Price
While there are free features, business plans start at around $30 per month. You will need to pick a plan for the number of items you plan to sell.
An Unlimited plan will cost you $82.50 per month, if you pay annually.
IndieMade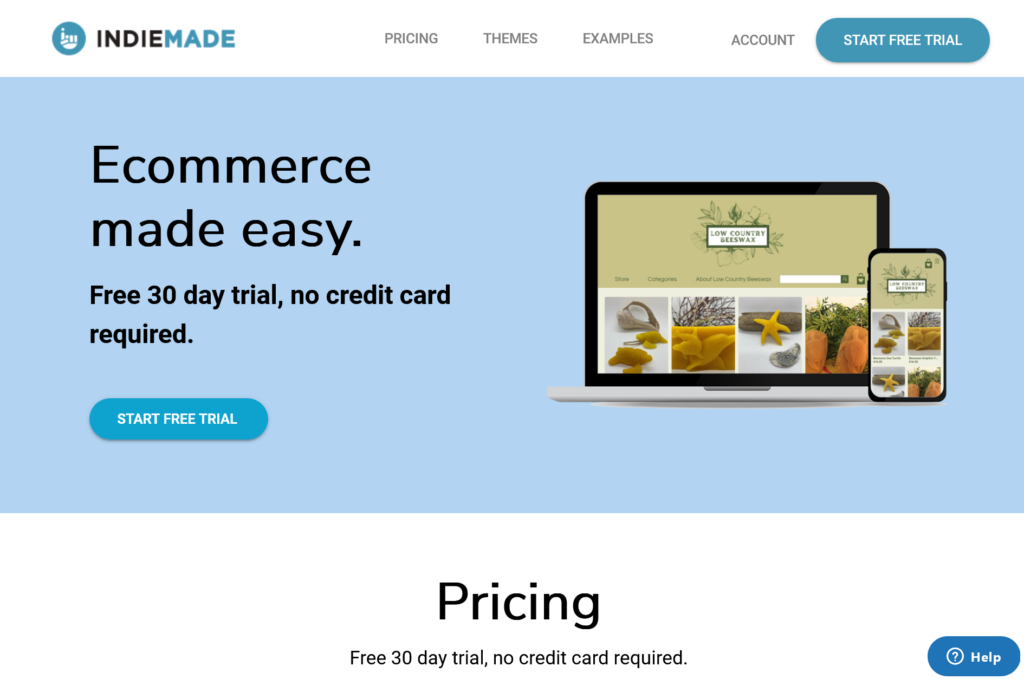 When it comes to art, IndieMade is the closest alternative to Etsy. The website not only allows you to build your store but also to add a blog, an event calendar, a product gallery, and a newsletter.
Best For
Artists looking for a second site to sell their art on that's similar to Etsy.
It would also be good for those who don't want to commit a lot of time, learning, and money into starting their store.
Pros
You can sync with your Etsy store if you choose to use both so that you aren't overselling your stock, and can manage your inventory.
Cons
There is not a whole lot of customizability to your site, so if this was your reason for looking for an alternative, it does not solve this issue.
You are also limited in how many variations you can have on products, just like with Etsy.
Price
All memberships start with a 30 day free trial, and unlike most companies they don't require your credit card info for the trial.
The basic membership will cost just $5 per month and allows you to sell up to 10 items with five photos per item.
Plans go up in price based on how many items you sell, and how many images you are allowed for each.
An Unlimited membership will cost $20 per month and have no restrictions on the size of your store.
Bonanza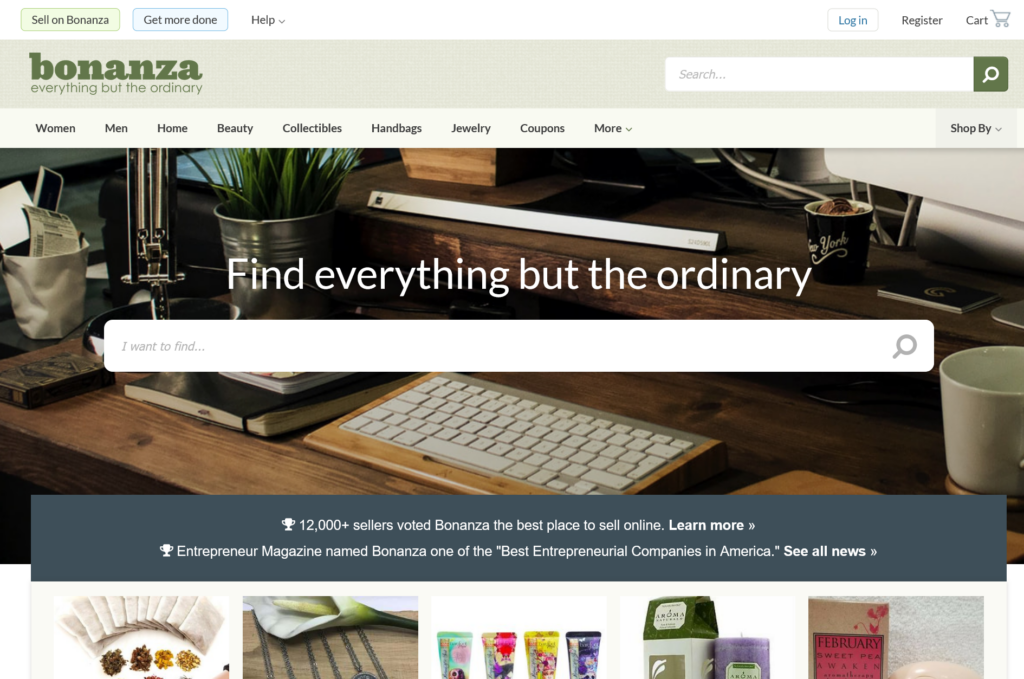 Bonanza is a marketplace that's all about truly distinctive items.
Items need to have a unique selling point to make it on the site, so it is more niche, but if this fits you, then you'll likely do well.
It's a marketplace similar to Amazon or eBay, where items are listed and searched for by buyers.
Best For
Unique goods. Items with exciting designs or special features that stand out will sell well here.
Bonanza is also great for sellers who are less interested in building a website and creating a marketing strategy, but who want to start selling immediately.
Pros
Bonanza has a stellar reputation for treating its sellers well. Fees are low, listings are free, and the software allows you to import items easily from other channels if you are switching over from another site. They also offer terrific support and communication with their sellers.
The Bonanza website lets you see detailed information about your buyers, create customer lists, and create targeted offers.
Cons
Bonanza will get you less visibility than a website like eBay, but because it's more niche, you're most likely to find a buyer looking for your unique item.
Those looking to create a website may feel somewhat limited, however.
Price
You pay nothing unless your item sells. Transaction fees are 3.5%, which is very reasonable.
The Bottom Line
When selling items online, there are two main directions you can go. Set up your own eCommerce website and create a marketing strategy to drive traffic to your site, or join a marketplace site similar to Etsy. Both have pros and cons.
Building a website gives you more room to create your own brand and personalize your store. However, it's time consuming, requires some technical know-how, and requires marketing skills.
On the other hand, joining a marketplace site is quicker and easier, but more limiting in developing your brand.
Whatever path you choose, there's sure to be a website or platform to meet your needs! Be sure to take the time to explore what each has to offer before you make your final decision.