---
Want to start an Etsy Shop?
Whether you're trying to find customers for your handmade physical products or just need a storefront and a platform that can handle payment collection and order tracking, Etsy is one of the major players.
There aren't many niche-based eCommerce platforms that provide the amount of value Etsy does to its users. From handling global shipping and tax rates to promoting your listings using an AI-powered algorithm, Etsy is wavelengths ahead of competitors, especially for products made by regular people.
This article will guide you to start an Etsy shop from branding your store, and account setup, down to listing products with all best practices applied.
After reading, not only should you get a firm understanding of how Etsy works but also how to create an optimized store ready to pull in a lot of sales.
But first…
What Is Etsy (Really)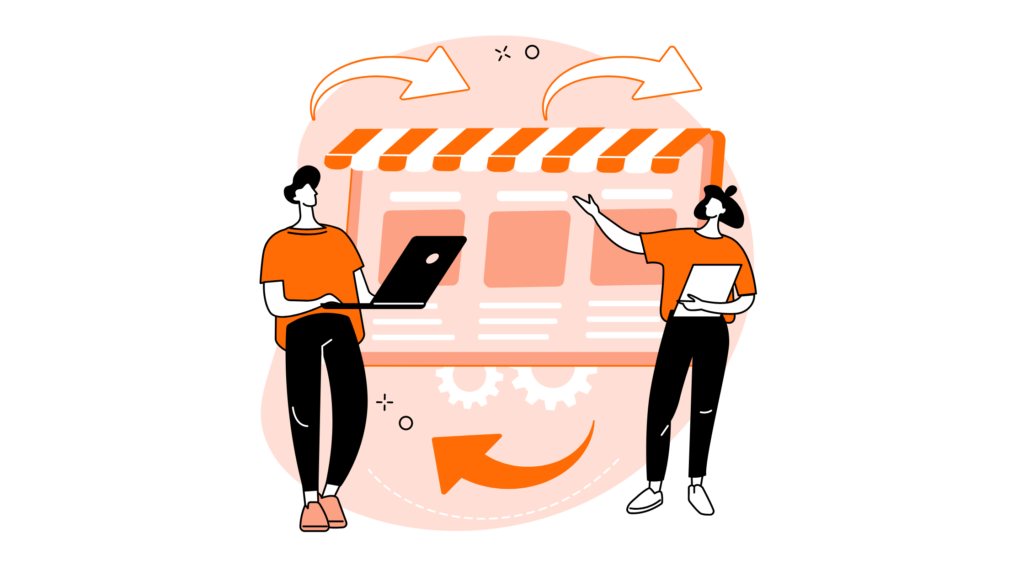 Etsy is an online niche marketplace that allows people to buy, sell and collect handmade and vintage items.
It was founded in 2005 by Robert Kalin, Haim Schoppik, and Chris Maguire who coded the platform and came up with the unique name "Etsy".
They aimed to create a marketplace specifically for artists and crafters where they could curate their products and put them on sale.
So instead of going through the hassle of creating your own store from scratch and figuring out how to market your products, Etsy would provide all that by default and be compensated from fees.
Competitors like Amazon handmade and ArtFire offer similar features but Etsy is still the major player in terms of market share.
According to Statista, Etsy generated over 2.3 billion U.S dollars in 2021 which was 35 percent higher than the previous year.
With these impressive statistics, you should be convinced that starting an Etsy shop is not a terrible decision.
What You Can Sell on Etsy
Etsy allows everything from Handmade items, Vintage items, and Craft supplies to digital services that involve sending personalized files e.g. PDFs.
Some popular items you can find on Etsy include; Handmade/Bespoke Jewelry, Printable, Physical/Digital Artwork, Stickers, Personalized Cards, Handmade clothing, and accessories.
As long your products are handmade, or custom-made, Etsy has no problem listing them.
Where Can You Sell Etsy Products From
Currently, you can only open an Etsy shop and sell products if Etsy Payments is supported in your country.
This is because, for new stores in countries that don't support Etsy Payments, Etsy can not help with facilitating the payment process or resolving order issues.
To avoid bad customer experiences, Etsy implemented this decision for all accounts created after April 26, 2021.
List Of Countries That Etsy Currently Supports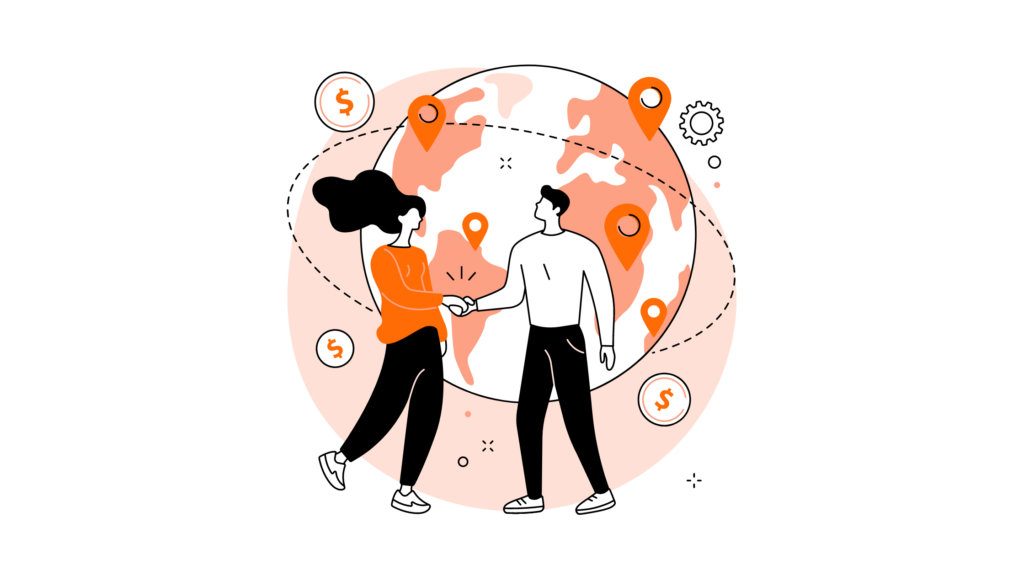 Etsy Payment is currently supported in the following countries:
New Zealand
United States
Czech Republic
Hong Kong
United Kingdom
South Africa
Israel
Germany
Greece
Ireland
Indonesia
Hungary
France
Estonia
Finland
Belgium
Austria
Australia
Bulgaria
Canada
Italy
Denmark
Cyprus
Croatia
Lithuania
Latvia
Slovakia
Singapore
Romania
Slovenia
Spain
Vietnam
Turkey
Switzerland
Sweden
Portugal
Poland
Malaysia
Luxembourg
Malta
Mexico
Philippines
Norway
Netherlands
Morocco
So, if you live in any of these countries and also have a product Etsy supports, starting a shop is possible.
If not, you can check out other Etsy alternatives if they would be a good fit.
How to Start An Etsy Shop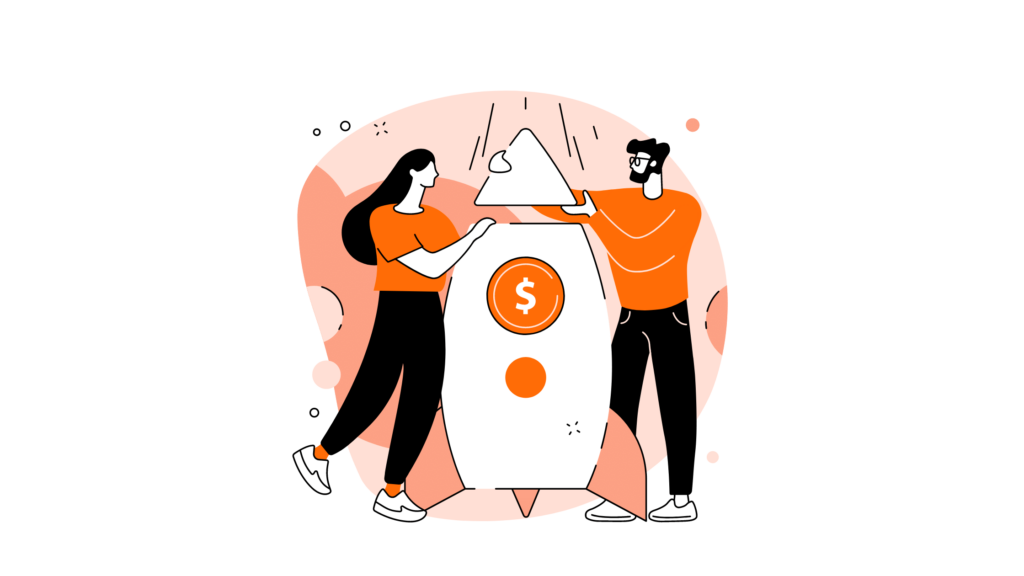 There are three main steps required to start an Etsy Business;
Branding Your Etsy Shop Idea.
Setting Up Your Etsy Shop.
Listing Products on Your Etsy Shop.
Branding Your Etsy Shop Idea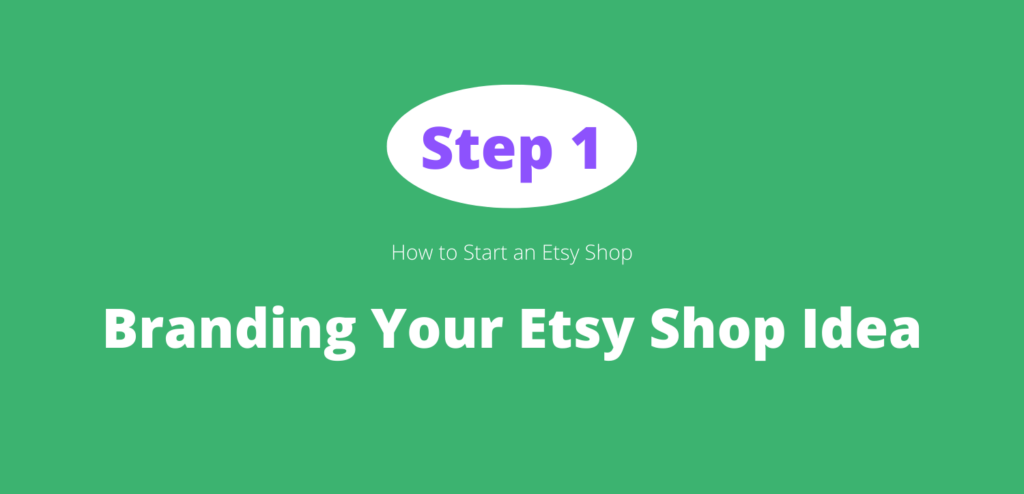 Come up with Product Ideas
The most important aspect of any Etsy business is its products.
Everything else has to revolve around your product (what you're trying to sell).
Statistically, it is known that Etsy shops that come up with unique products and focus on just that sub-niche are more likely to be successful, especially for new stores.
The problem is, that creating unique products is difficult.
With over 60 million products listed on Etsy, you would need to be very creative to offer anything outside what's existing.
Another approach is finding an existing Etsy shop doing well and creating higher quality products that their customer base can not resist.
This requires deep competitor analysis, you have to figure out how much it costs them to make each unit of their product, luxury materials you can include to stand out, and a good profit margin.
Once you start getting sales, you can experiment with other variations and even offer the same quality your competitor's Etsy shop was for less.
Note that this only applies to products that are not trademarked, so stay away from those.
You can still take inspiration from it and create something better but copy nothing exactly.
You can still take inspiration from it and create something even better.
Just don't infringe on someone else's work, take inspiration and create something better (that's how business works).
Once you're able to come up with one or more product ideas, it's time to create branding and marketing material around it.
Choose a Name for Your Etsy Store & Design a Logo
To increase the conversation rate and overall trust of your Etsy store, creating a good brand image is key.
The name of your store should meet at least any of these three criteria:
Personalized – Include your name or family name e.g. Margeret's Shop.
Descriptive – Hint on what the Etsy shop is about e.g. Margeret's Handmade Necklaces
Unique – Should be completely unique from any other Etsy shop e.g. Slanderian HandMade Lore (Slanderian is a fictional word)
In the end, whatever name you decide to use should be memorable and well indicate what your Etsy shop is about.
This will keep customers coming back to check for new stuff.
For example, if you're an Anime fan and make handmade merch for specific series.
Someone who purchased a necklace from your anime-themed Etsy shop will probably check back for other products.
This is a good way for Etsy stores starting out to gain a lot of traction as older, and more experienced shop owners already dominate most common product niches.
Once you have a name ready, you can design a logo for your store using one of the logo templates available on Canva.com for free.
If you want to invest a little more, you can outsource the logo design to a professional on Fiverr or Upwork.
When designing your logo, make sure it's just as descriptive as your Etsy shop's name.
The goal is to get people to remember and trust your brand; it needs to connect with people on a personal level.
You also have to come up with colors for your brand, whatever set of colors you go with, make sure you use them on your store's banner, logo, packaging, and products if it applies.
Having a consistent brand theme shows to people viewing your products that you put a lot of thought into everything you make.
Nothing screams Professional than good branding.
Note: Please make sure no existing Etsy Shop is using the name you come up with before creating a logo. Etsy does not allow over one store to use the same name.
Get Products Ready
Just before you proceed with setting up your Etsy account, make sure you already have the first batch of products ready.
You can try distributing them for free to your friends and family and get feedback from them after a few days of use.
Things like what they love about the product and how it can be improved will help you gain confidence in your product and know exactly how to write your Etsy product listing descriptions.
Another reason you need to make some samples is because of product images.
Etsy recommends taking professional pictures of your handmade products from different angles.
You can use your smartphone's camera or invest in a product photoshoot, just make sure you have clear and well-light images that show the best sides of your products.
You can also make a video showcasing your Etsy products; The different colors, sizes, and accessories.
These should all include your store's brand element so potential buyers are sure you didn't just download them off another store.
You could add a small label with your logo somewhere in the background or use your brand colors in the background in some subtle way.
Getting people to buy products on Etsy is 10% setting up and 90% presentation.
If your products look good, authentic, and have descriptions crafted from feedback, you're more likely to get better conversions.
Setting Up Your Etsy Shop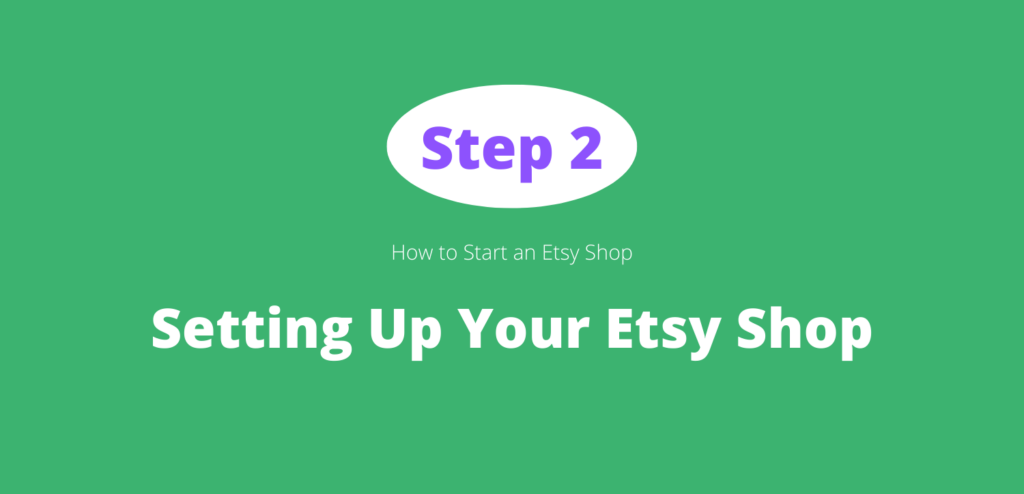 Alright, now to the actual tutorial bit of this article, setting up an Etsy shop is quite easy but making sure your Etsy shop is optimized is not.
Etsy like every Marketplace out there has a search engine and a ranking system in place.
If your Etsy store is not optimized for it, especially as a newbie, you're bound to see little to no organic promotion.
Not to worry as I've covered everything below.
Create an Etsy Account
Here are the steps to follow to create an Etsy account.
Step 1: Visit Etsy.com/sell and click the Get Started button.
Step 2: Sign in using your email or any of the other options.
Step 3: Click the Let's do this button to start the signup wizard survey.
Step 4: Select the First Time option and click the Next button.
Step 5: Click the Next button without checking any of the options.
Step 6: Click the Start your shop button.
Setup Etsy Shop Preference
After you finish with the first phase of the setup, you'll be redirected to the Etsy shop preference where you can select a country for your store and a default currency.
To proceed, select a country and a currency and click Save and Continue.
Naming Your Etsy store
The next step is selecting a name for your Etsy store (which you should already have).
Etsy has some rules regarding naming stores, for one you can't use the same name as an existing Etsy store and the length of your Etsy Shop name can only be between 4 – 20 characters, no shorter or longer.
You also can't use space or special characters in your shop name.
To name your Etsy shop, enter a name into the text field and verify if it's already been taken.
Once you find a variation of the name that is not taken, click on the Save and Continue button to complete the setup.
Listing Products on Your Etsy Shop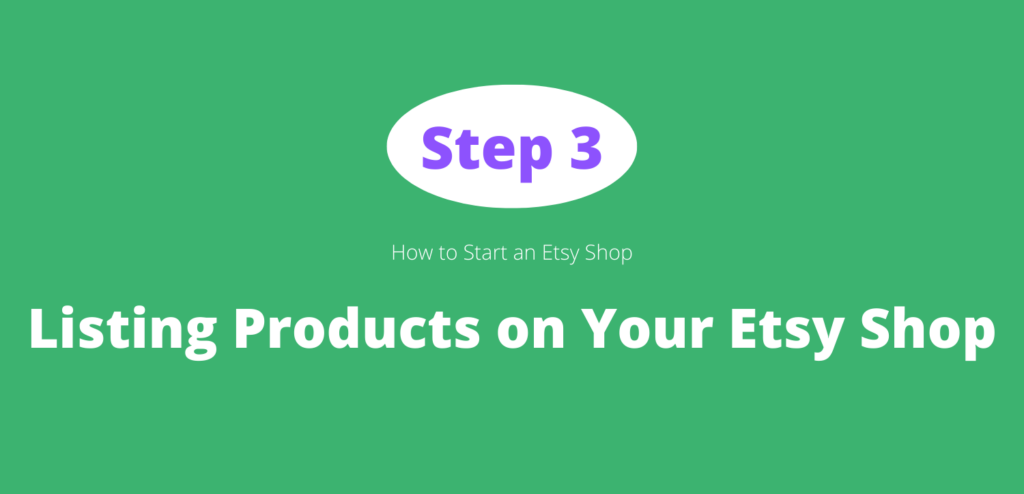 After adding a name, the setup wizard should redirect you to the listing page to add your first product.
To list products on Etsy, there are six sections you need to fill.
Photos
Etsy supports up to 9 different product images, each image is recommended to capture a different angle to allow potential customers to visualize the product better.
Some recommendations from Etsy include making sure the image is well lit with natural light, adding a common item in the background to give a sense of size based on the comparison, showing the item in use, and using a clean/simple background.
To add an Etsy product image, simply click on the Add a Image block and select all the product images from your device.
You can also rearrange images after adding them, just drag any of the images with your cursor and drop them in the desired position.
The first image you add automatically becomes the thumbnail but you can change that using the drag-n-drop feature.
Also, you can crop, delta, and add ALT-text to all product images you upload.
When you hover over an uploaded product image, see these three icons.
The first icon allows you to add an alternate text which is very important for SEO, so if someone searches for an item on Etsy or a search engine like Google, there's a chance your image will show up for the query.
The second icon enables image cropping.
I recommend cropping your product images before uploading them but in case you forget to, the cropping feature on Etsy should work just as well.
The last icon completely removes a product image from the wizard.
Video
This is completely optional but is proven to increase your sales as videos then give a better representation of products than images.
Etsy recommends a product video to be between 5 – 15 seconds with no sound.
Also, the file limit for videos is 100MB so you might have to use a compressor.
Etsy also recommends you film the product being used and use a high resolution (1080P or higher)
You should also make sure your video's aspect ratio is the same as your primary image.
So if your primary product image is in portrait orientation, you should record a portrait product video.
To add a video to your Etsy product listing, click on the Add a Video block and upload a video from your device.
Listing Details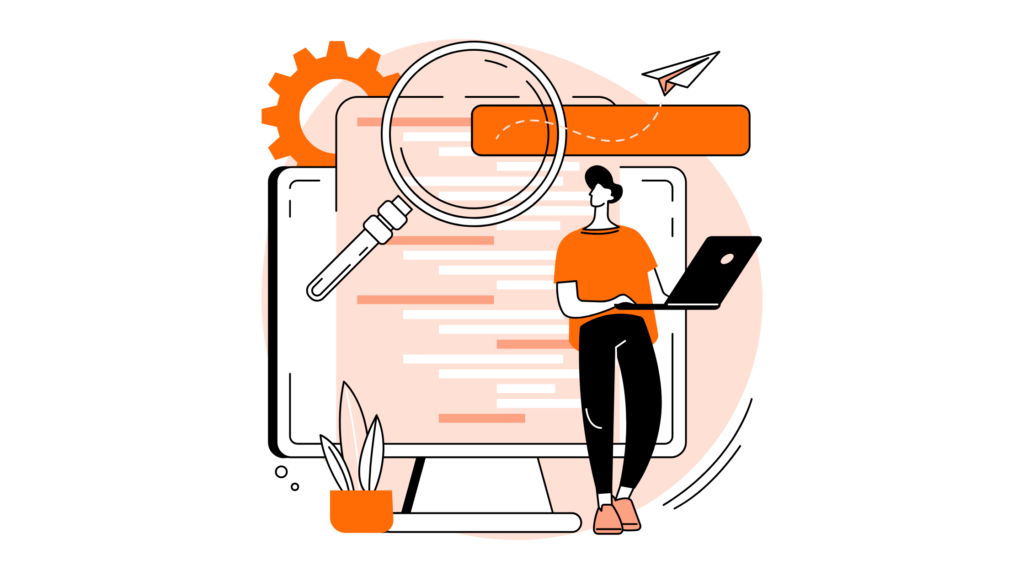 Listing details is the most crucial part of publishing a successful product on Etsy.
There's a lot of research required to get the best exposure for your listing, from your listing title to the description, the words you include will determine how often buyers will come across your products (Impressions).
Using a keyword research tool like eRank or EtsyHunt is guaranteed to give you an edge in coming up with listing details that will dominate Etsy search pages.
Here's a detailed list of all the fields you need to fill under the Listing details section:
Title: The title of your product, recommended to add in at least three common or unique keywords with good search volume.
About This Listing: This option allows you to set things like who makes the product, the type of product (finished or material), and when it was created (specify a year or select Made to Order if the product is created on demand).
Category: This allows you to select a category for your product, depending on what you choose, you should get even more tailored options like "material used" and available "colors".
Renewal Options: Etsy listings expire after four months by default, the listing option allows you to set if you'd like to renew automatically for $0.20 every time or do it manually.
Description: This is another key field that determines not only how much exposure your Etsy product gets but also your conversion rate. Etsy only displays the first 160 characters of a listing's description but there's no word count. Including things like your product's creation process and brand story is a sure way to boost conversion, you should also add popularly searched keywords in your description for SEO reasons.
Product Partner: This option allows you to add other people as partners to your Etsy listing.
Tags: This allows you to add regularly searched keywords to your product's metadata, this means there's an increased chance of your product showing up when searched on Etsy.
Inventory and Pricing
This section houses options for adding inventory and pricing-related data for your listing.
Here are the fields you are required to fill in this section:
Price: This is where you add the price of your Etsy product, the minimum Etsy Listing price is $0.20, and the maximum is $50,000.
Quantity: This allows you to set the quantity of the listed product available, if you add a quantity of more than one here, anytime your product sells out, it will automatically be renewed for a fee of $20. So you can think of it as a $0.20 fee per purchase when you have more than one quantity.
SKU: This is completely optional and allows you easily track your products and avoid adding duplicates.
Variations
The Variation section is a bit advanced, especially for beginners but it's where you set separate pricing and stock based on product color, size, fabric, etc.
So, instead of creating separate listings for different colors and fabrics, you can use a single listing and extend it with variations.
As a beginner, I recommend skipping this section until you're used to selling on Etsy as it can get complicated (fast).
To add variations of your Etsy product, click on the Add Variations button and a popup should appear.
On the left-hand side, you have to select an attribute you want to create a variation from, it can be color, size, or even the material used to craft the product.
Once you select an attribute, on the right-hand side you can add values for it.
You can also add more attributes aside from the first and their values but be ready for the complications that come with it.
Once you finish configuring your variations, click on Save and Continue.
Now based on how you configured the variations, you can set specific values like quantity and price for each attribute value.
Personalization
If you sell customizable products like necklaces and headbands, this section allows you to add instructions for your buyers and collect information about their preferences.
For example, a customer can easily type in their color preference as well as a material choice for a product.
It is optional for non-customizable products.
Shipping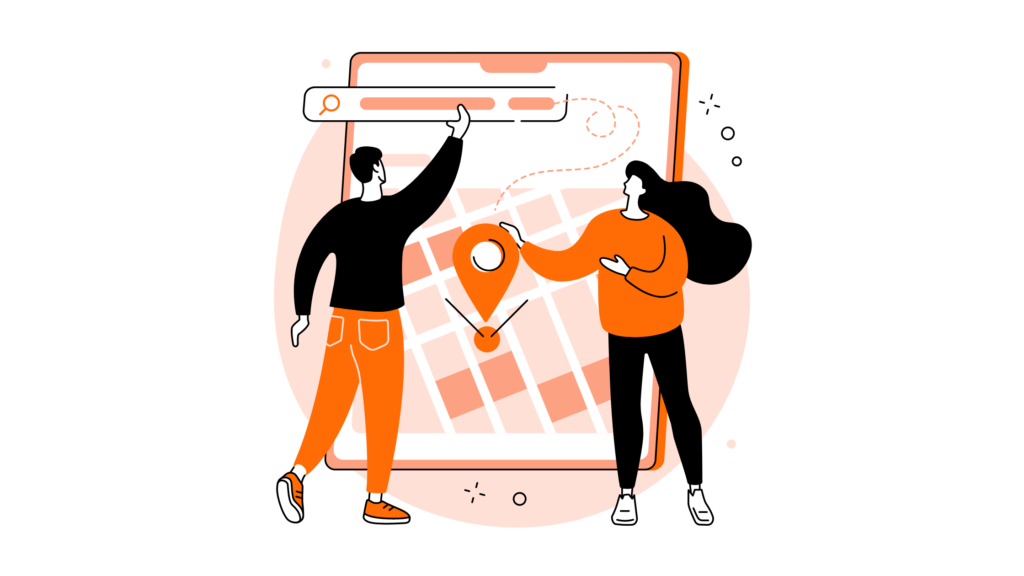 This is the last section and houses everything related to shipping your product.
Here are the fields required to fill for shipping:
Shipping Prices: This lets you set your shipping prices, you can either enter shipping costs manually or allow Etsy to set them automatically (recommended).
Origin Zip Code: In this field, you have entered the Zip code of your physical address.
Processing Time: This lets you add a processing duration for your listing product.
Where I'll ship: This lets you select the locations you plan to ship products to.
Shipping services: This lets you select a shipping service, you can choose from 6 base services and 2 advanced shipping services.
Free Shipping: This lets you choose if you'd like to set your listing to be shipped for free domestically and internationally.
Handling Fee: This field is for any other fee required to ship the product not covered by the shipping service rate.
Tariff number: This is a customs-related number required especially when shipping to countries in the EU. you can find the Tariff code for your listing product type on Etsy's customs information page.
Item's Weight: This is where you add your product's weight after packaging, this will affect the shipping cost so make sure it's accurate.
Item Size: This option lets you set the dimensions (Length, Width, and Height) of your product in inches.
After filling up each of these sections with the required information, proceed by clicking the Save and Continue button.
You should be redirected to the next page where you select a payment method.
I recommend choosing Etsy Payments as it's the most efficient way of getting paid, you can also use PayPal if Etsy Payments is not yet supported in your country.
Lastly, you'll have to set up billing which is just after the payment method, Etsy requires sellers to add a card to their account since they might need to charge you for auto-renewal of listings.
Once you finish these last few steps, your Etsy store should be live and you should be redirected to your shop dashboard where you can add in a logo and make other customizations.
Conclusion
To sum up, opening an Etsy shop is a fairly straightforward process. First, you need to create an account and set up your shop.
Next, you will need to choose a pricing strategy and list your products. Finally, you will need to promote your Etsy shop to drive traffic and sales.
Things like listing SEO and Shop branding can be improved as time goes by and you gain more returning buyers.
You can also begin experimenting with more products as your shop grows but start small.
Lastly remember, Etsy requires patience and a lot of trial and error. As long as you keep trying different strategies and you follow the recommendations in this article, you should find success eventually.
If you have any questions about starting an Etsy shop, please don't hesitate to leave a comment below.
Take care.