---
Etsy is currently one of the largest online marketplaces for artistic handmade goods. While the number of shoppers visiting the site is fantastic for sellers, the competition is ruthless!
There are so many things to consider when it comes to making your store competitive in this saturated market, and it's challenging to be an expert on everything.
That's where tools come in.
Developed to make being an eCommerce seller more profitable, easier, and more efficient, the right tools can be indispensable when it comes to saving you time and earning you more money.
In this article, we'll cover some of the most valuable tools available– both paid-for, and free– and all of which cover different aspects of selling on Etsy!
The Best Free & Paid Tools for Etsy Sellers
---
1. Outfy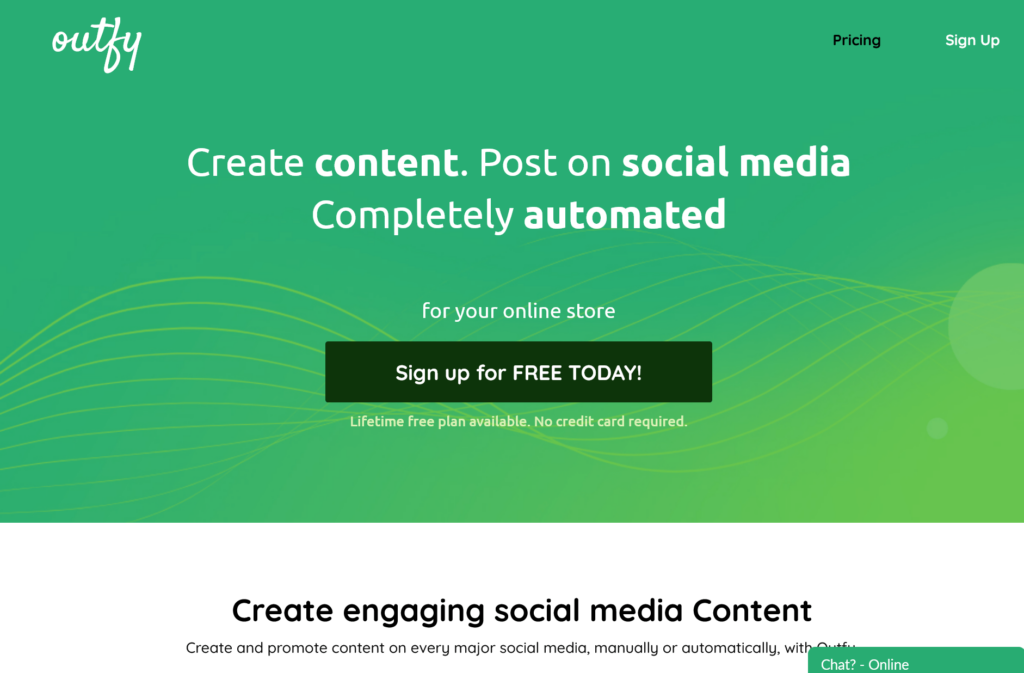 Social media accounts are a crucial marketing tool for anyone trying to make their Etsy store a success. The more platforms you can use to promote yourself and your items, the better your chances.
However, managing multiple channels can feel like a constant juggling act, which is where Outfy comes in.
Outfy links to all of your major social media channels, including Instagram, Facebook, Twitter, YouTube, and Pinterest.
Within the software, you can create content such as videos, photos, GIFs, promo material, and collages, and then share your creations with all your accounts at once!
The automated social media management allows you to select products to promote with just a few easy clicks.
While Outfy offers a free lifetime plan without needing to give your credit card details, you can also upgrade to their paid versions ranging from $15–$100 per month.
The most popular plan is the Pro plan at $30 per month. This plan will unlock their promotional feature, allowing you to market your current promotions even more efficiently.
If you have multiple social media accounts on the same platform, however, you'll need to upgrade to their Ultimate or Enterprise levels.
The free version is still very handy for those with small stores, and is a great starting point. From there, it's a great idea to upgrade your account as your store grows to help you keep up!
2. Mad Mimi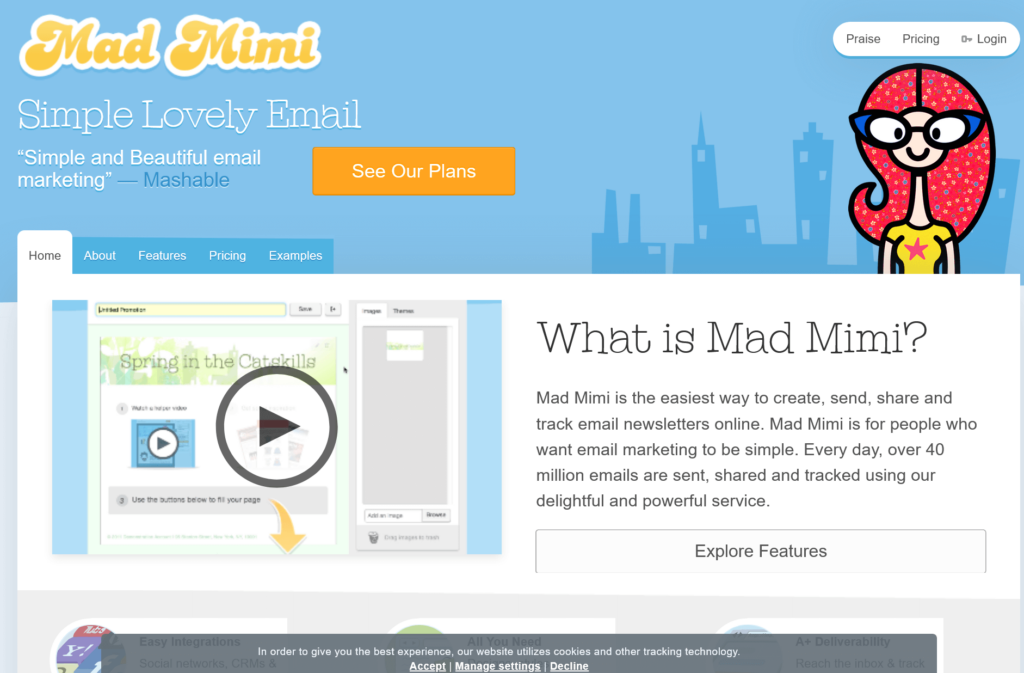 Mad Mimi is an email composer which you can link to your Etsy store. From there you can create a beautiful newsletter easily, which is a great way to reach your audience and encourage repeat orders.
By integrating it with your Etsy store, you can drag images of your product right to the email.
Mad Mimi uses a clean interface and helps you create professional-looking emails.
Once you've perfected the look you want, you can then use that email as a template so your emails always have the same look and feel. You can also link Mad Mimi to your social media accounts!
There are four levels of plans, which range in price dramatically. The Individual plan is $10 a month and is suitable for a small store with a mailing list of up to 500 clients.
The most expensive plan is the Gold plan for big businesses. The highest level of that plan reaches half a million clients and will cost $1,499 monthly.
You can easily upgrade and downgrade your membership as your mailing list grows or shrinks.
3. Marmalead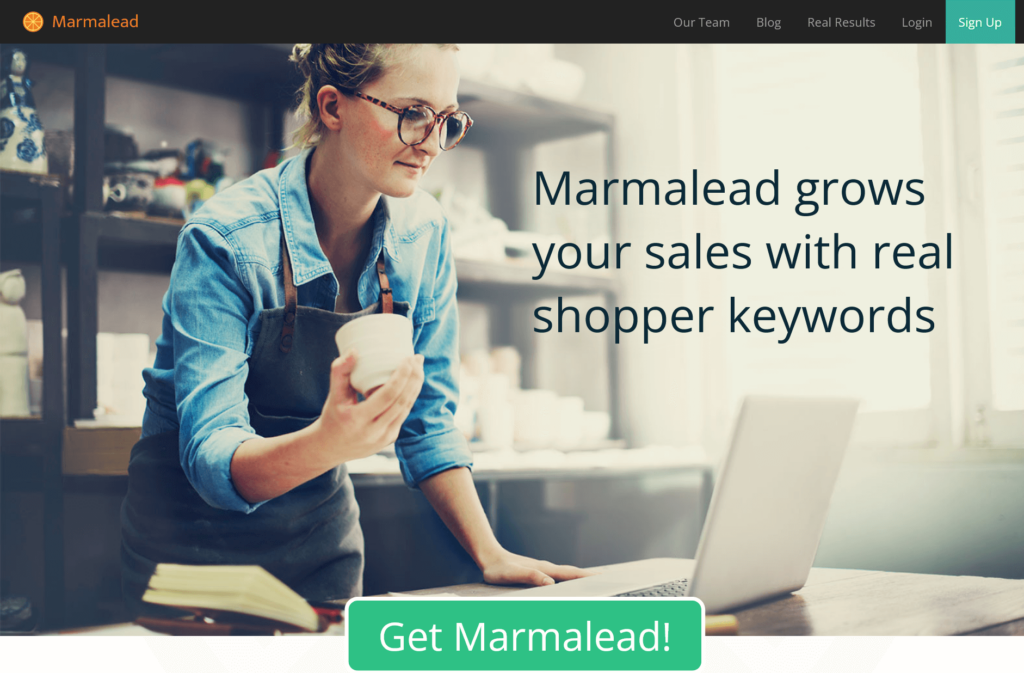 When building a successful eCommerce store, it's all about the keywords. Without the right keywords, shoppers won't be able to find your store, and your SEO strategy will be doomed to fail!
Marmalead takes the hard work out of SEO by finding the best keywords. It uses its AI-based machine-learning algorithm to do so, based on thousands of shoppers just like the ones looking for your product. It will even allow you to track your progress.
Still not convinced? In 2022, Marmalead users made four times as much on Etsy as non-users. Additionally, as the AI learns as it goes, it'll only get better with time.
Subscriptions cost $19 per month, which seems like a great investment for the amount of value you receive!
4. LeadDyno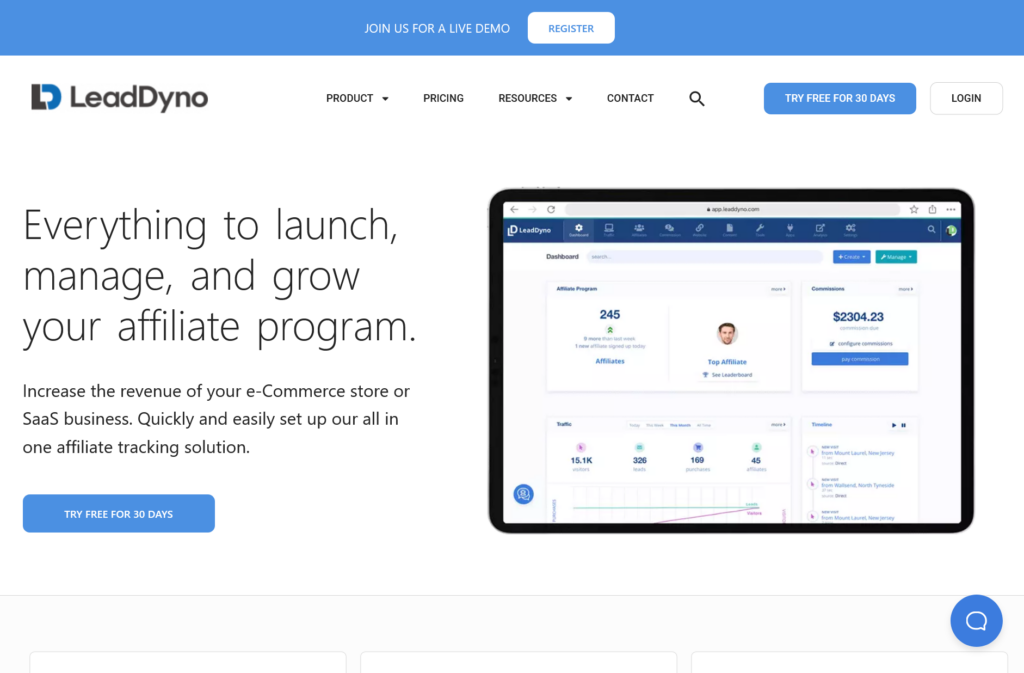 Affiliate marketing is an effective way to generate sales in your eCommerce store. It's even recently been taking the lead over marketing campaigns.
However, for small businesses, signing up affiliate partners may seem a little daunting. That's where LeadDyno can help.
LeadDyno allows you to create and customize your own page, where potential affiliates can sign up to partner with you.
Once registered, affiliates are emailed instructions about how to market your store. Affiliates can then make recommendations, and you can track the progress through clicks, leads, and sales.
You can even pay all your marketers through LeadDyno's PayPal Mass Pay function.
But how effective is it? Well, in 2021, LeadDyno helped its users generate over $235 million dollars in affiliate sales!
Try the app for free for 30 days, after which you can pick between four levels of plans.
While the Standard plan is $49 per month, the most popular is their Plus plan. For $129 per month, you are covered for 15,000 unique visitors per month. After that, each unique visitor will be billed at five cents each.
If your site has exceeded the visitors allowed, you can always upgrade to a plan that covers more.
5. ReferralCandy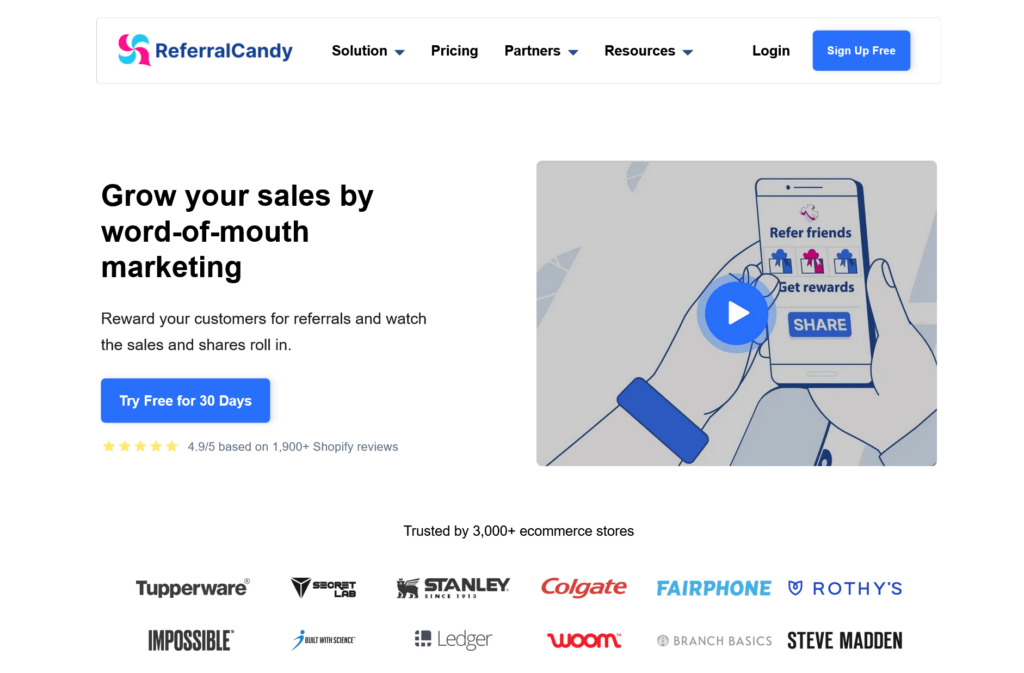 Even in this day and age of online marketing, word of mouth is still a potent tool, and direct referrals are an ideal way for your business to grow.
The best way to ensure you are utilizing these is by having a system of rewarding your customers for their recommendations.
ReferralCandy allows you to track your referrals and reward the referees.
With this software you can set up an automated email to customers, as well as create website pop-ups and referral widgets.
Rewards are set up in the app, whether they're discounts, gifts, or custom rewards. You can then track the success of the program and send out rewards.
After a 30 day free trial, small businesses will likely go with the Premium plan (don't be confused by the name: this is the cheapest plan). This will cost $47 per month, billed yearly, but you should note that there's a 3.5% commission on these sales as well.
Larger businesses will want to upgrade to the Plus plan for a higher monthly fee ($239) but a small commission rate of 1.5%, along with some extra features.
There's also an Enterprise level, but you'll need to get in touch with the company for information.
6. Vela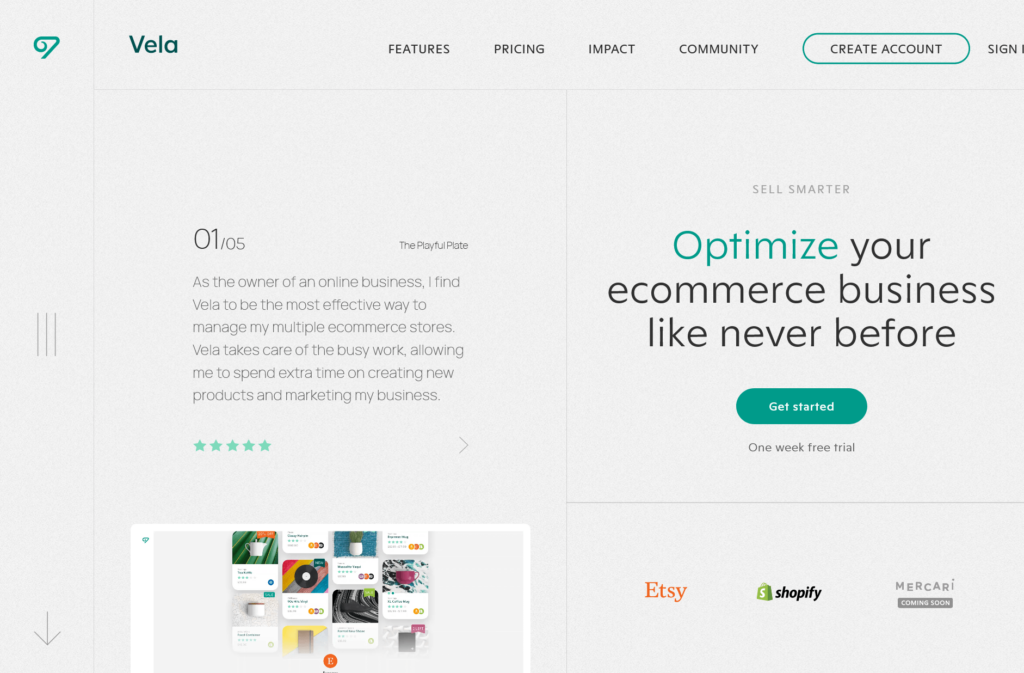 If you have multiple Etsy shops, Vela can help you optimize your business by allowing you to manage them all from one place!
With Vela you can bulk and copy edit across channels and create, manage, and edit listings, saving you time.
This tool allows sellers, on average, to create 20% more listings than they would without it. These optimized listings have been shown to produce 30% more revenue.
Try Vela free for a week, after which you can choose between their Lite plan at $5 per month for each shop, or their Plus plan at $10 per month per shop.
The Plus plan also gives you access to an editor tool, photo library, and profiles.
7. SellerTools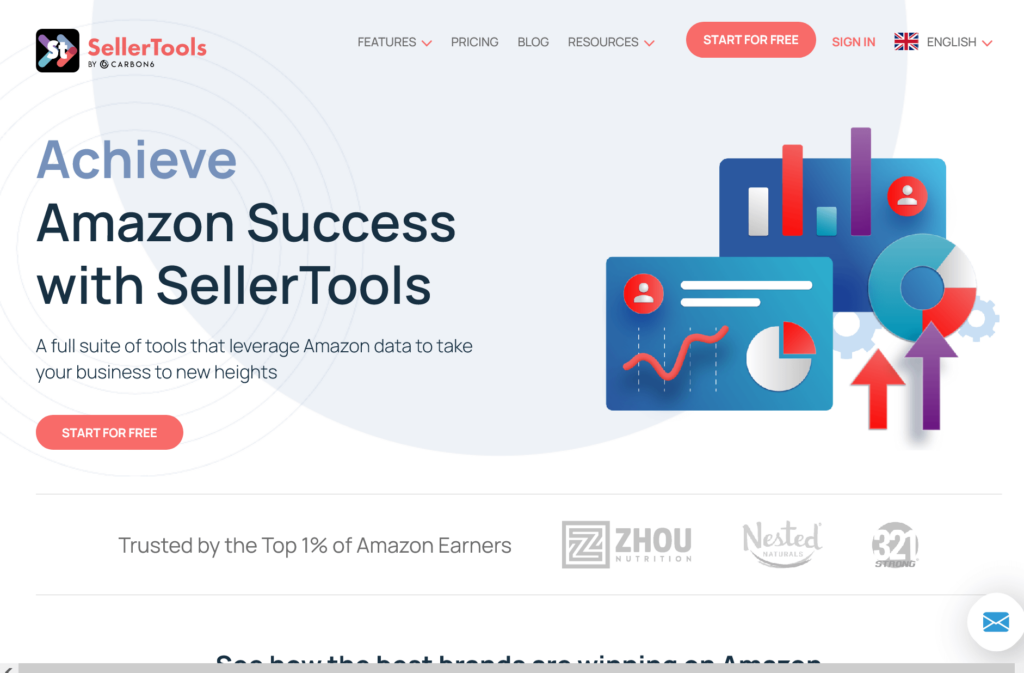 If you are looking for a tool that covers a little of everything, SellerTools is a good all-round option.
Its features assist with marketing and pricing research, even for niche products. SellerTools can also help with SEO, such as finding the best keywords to use.
With automated posts, it can help manage promotional activities through social media, events, and coupons. Lastly, it can generate business reports and help you to manage your inventory!
Many of the features of this app are free, but you can upgrade for $10 a month to unlock extra benefits.
8. Etsy On Sale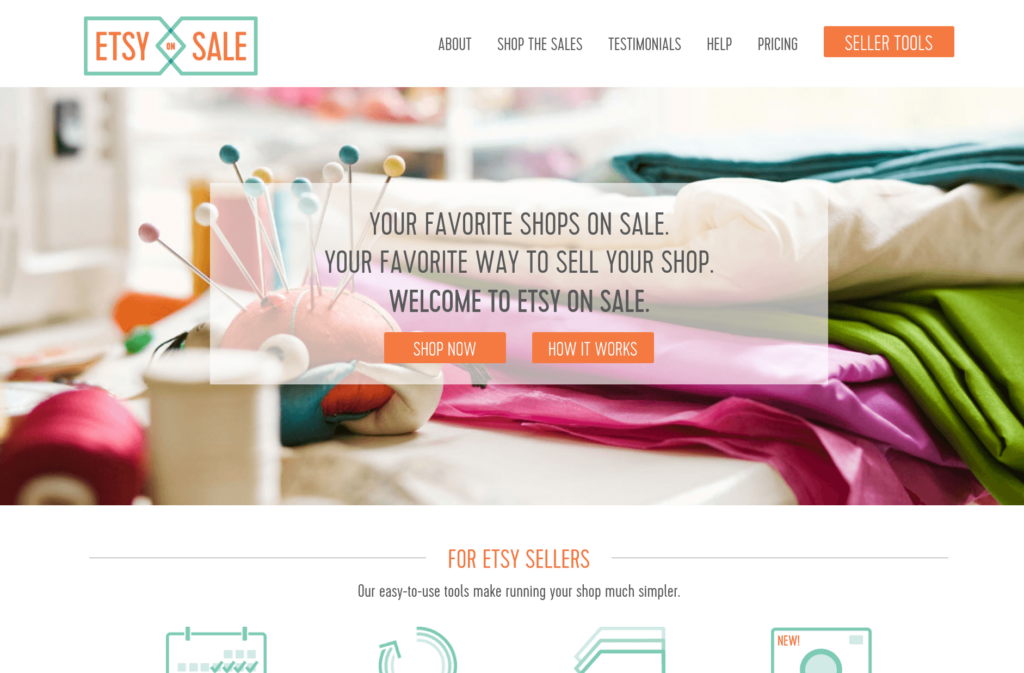 Etsy On Sale is another great tool to save you time when you have multiple shops to manage.
All of your shops are loaded onto one account. From here you can market certain items, as well as schedule events and sales. You can even store and back up your photos and auto renew your listings.
Other than being another great tool, Etsy On Sale is also a marketplace for those looking for a bargain. When you mark your items for sale on Etsy On Sale, they're also featured on the site.
Instead of a subscription, Etsy On Sale uses credits. Every time you use it, you'll be charged a set amount of credits. This way, you only pay for what you use.
You can purchase a credit pack of 10 or 20 credits at a time. A sale event will cost you 4 credits, which is the equivalent of around $3 to $4 depending on the pack size.
9. TaxJar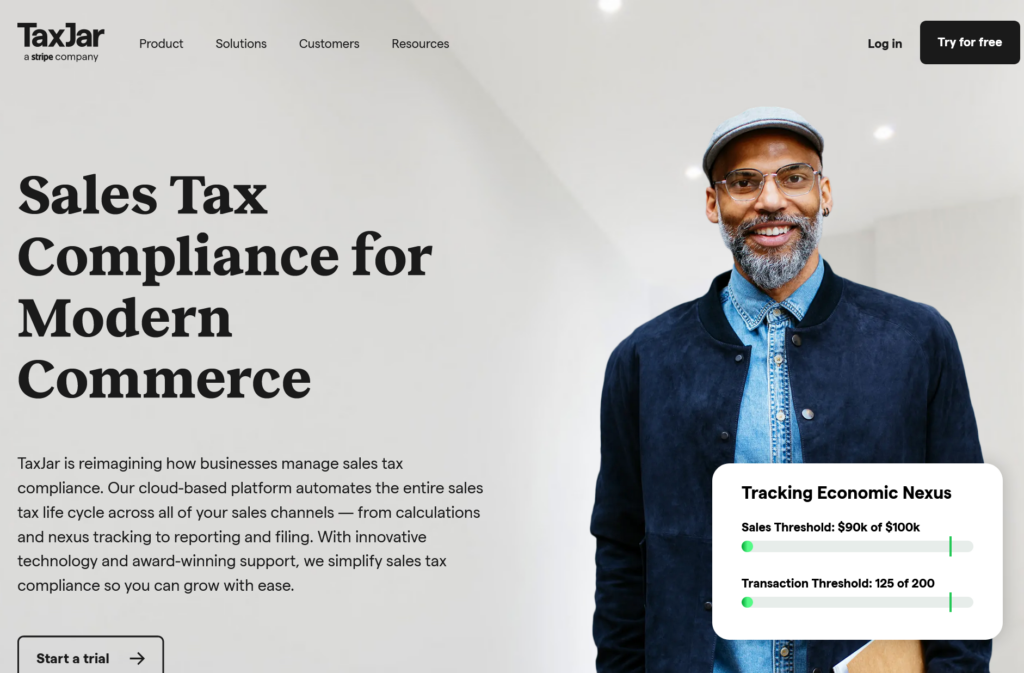 For many, one of the most daunting parts of having your own business is keeping track of your taxes. Small business owners can find tax software to be helpful, particularly if you don't have an accountant.
TaxJar integrates excellently with Etsy. You can track your sales and income, and then let you know what to pay and when based on your state and jurisdiction.
TaxJar will integrate with multiple selling sites, and will also notify you if there are any pricing errors.
You can start with a free 30 day free trial, after which it'll cost $19 per month for a Standard plan (includes 200 orders per month).
The Professional plan starts at $99 per month and has a lot more features, but is also for only 200 orders a month.
10. Printful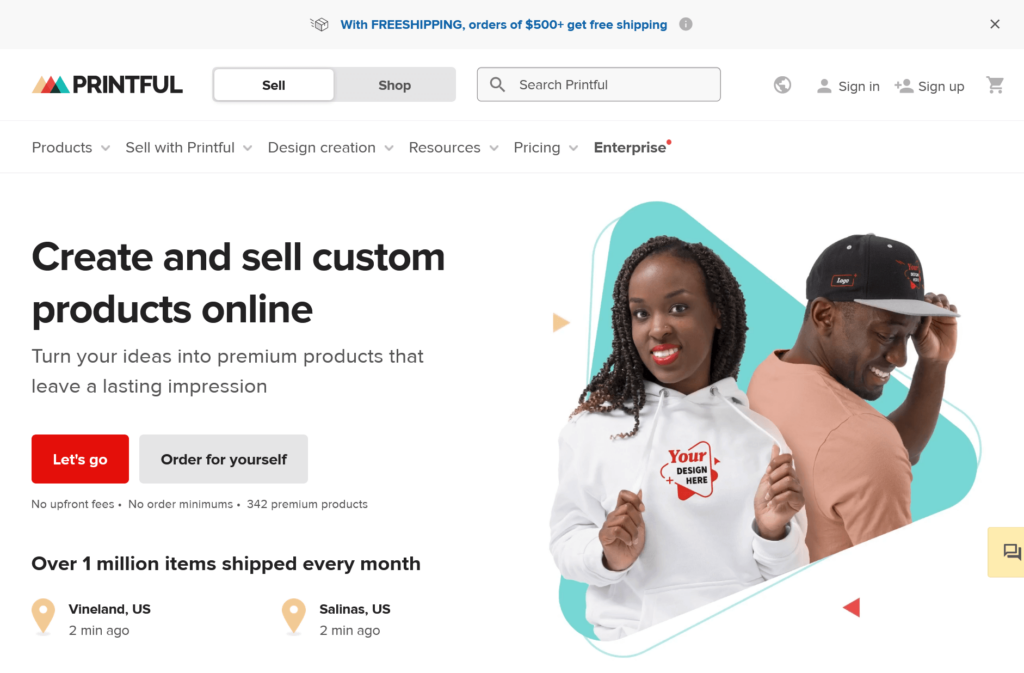 If designing a custom print for items is what your store is about– but production and distribution aren't the areas you are interested in– consider partnering up with Printful!
Simply upload your prints to Printful, then select your items. You can even link your Etsy store, and Printful will then fulfill your orders for you. Items are stored in their warehouse and can be shipped anywhere in the world.
Printful also offers all kinds of tools for your business, including help with your designs, boosting your SEO, and creating promos.
You'll want the Pro plan at $49 a month to get all the features, but you can still have Printful create and ship your products with the Free plan.
11. eRank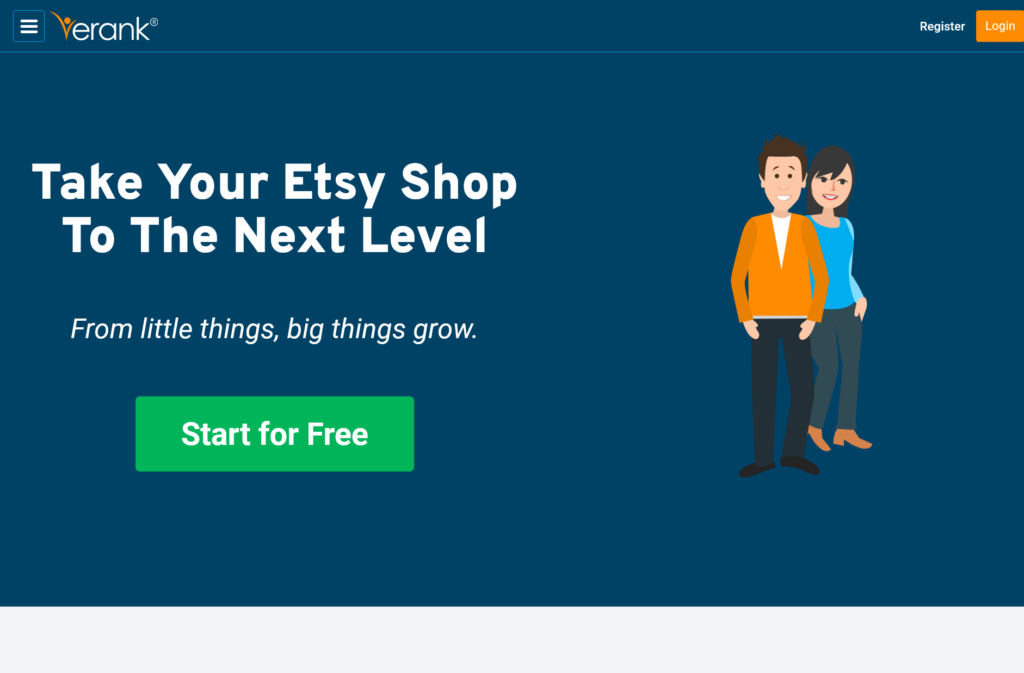 If you're after help with SEO and puzzled over where to start, eRank is an excellent solution. It's a top-rated tool for Etsy users, and offers plans at affordable prices (including a free option).
eRank will help you work out the best keywords for your tags to gain the most traction. You can even see what the most popular keywords are at the moment on their website!
Keep an eye on the competition by viewing their volume of sales, keywords, and items they've recently listed. You can also view current trends, keeping your items as relevant as possible.
eRank has four levels of plans, depending on how much data you want.
Start with the free plan to get a feel for the program and see if it would be useful for you. From there, you can upgrade to their Basic plan at $5.99 per month, or Pro at $9.99 per month.
The Expert level plan costs $29.99, but it's aimed more at analysts than sellers. However, if you're a data junkie– go for it!
12. Putler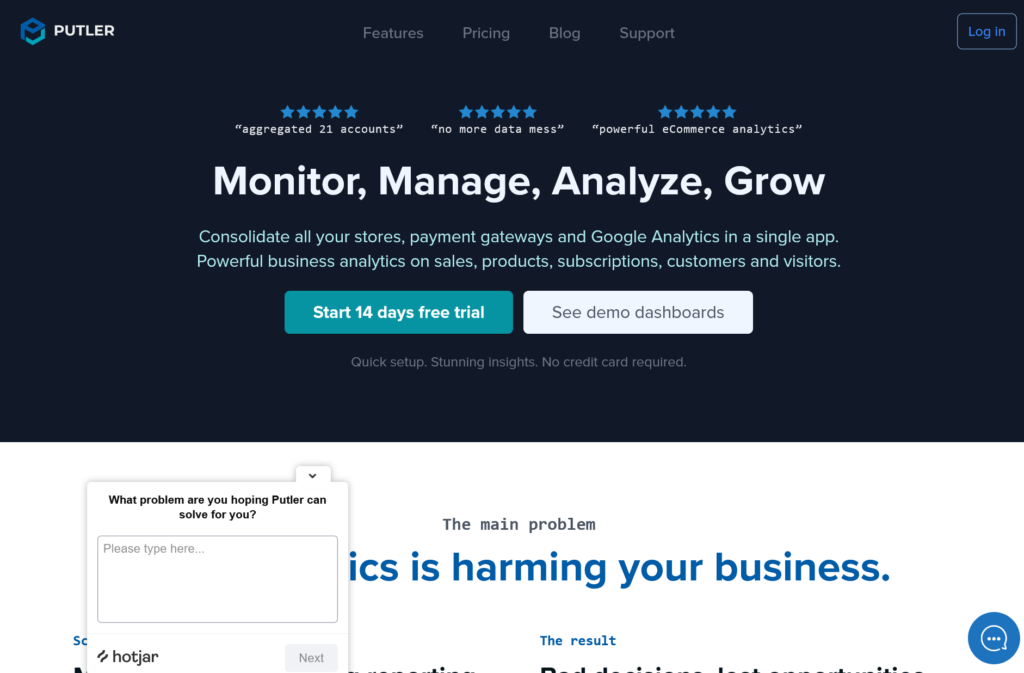 Putler is a program designed to simplify analytics. It solves the issue of having too many programs to track, and allows you to manage your store by syncing all of your apps together.
In one app, you can manage multiple stores, use Google Analytics, and process payments.
This program is hugely helpful if you have more than just an Etsy store because of how it manages payments, but Etsy-only users will benefit from an easy-to-read, comprehensive dashboard for their analytics.
Putler helps you make more informed decisions about your business using AI learning. They'll offer suggestions about how you can improve and grow your business, leading to more sales.
Initial users can start with a 14-day free trial. A Starter plan will cost you $20 per month, while a Growth plan is $50 monthly.
You can even create a custom plan, giving you only the tools you want!
---
Final Thoughts
The number of tools available can make operating your Etsy store much more convenient, but it can also be overwhelming.
Think of these tools as assistants. If you could afford an assistant to help you with your store, what would you hire them for?
If you struggle to get your head around SEO, then Marmalead is a great choice. If it's setting up affiliate marketing, then it's LeadDyno.
For newsletters, Mad Mimi can't be beat, while Outfy is ideal for social media management and TaxJar for your taxes.
Be smart with your choices, mix and match, and use trials to find what works for you!